Moskitt Feature Modeler


Moskitt Feature Modeler (MFM) is a free open-source tool for editing feature models. MFM is based on Eclipse and has been developed using EMF, GMF and ATL.

Feature Modeling has an important role in the software industry. Although an isolated tool for feature models can be interesting by its own, the integration with MDE method and tools for software development provides new value. MFM can be used standalone as an Eclipse plugin or integrated in the MDE MOSKitt environment.

Feature Modeling editors should provide mechanisms to manage the complexity when models start to grow. This becomes a must when modeling complex systems. MFM provides visualization techniques to scale as the model grows, considering also user customization. See MFM Main Features.
Complexity is the business we are in, and complexity is what limits us.''


Frederick P. Brooks Jr.

, Kenan Professor in University of North Carolina at Chapel Hill.
See MFM in real-life application!
Our research shows how to achieve Autonomic Computing through the Reuse of Variability Models at Run-Time. Specifically, we have develop a Model-base Reconfiguration Engine (named MoRE) which translates context changes into changes in the activation/deactivation of system features.
The combination of both MoRE and MFM models enables us to develop Autonomic Homes. Watch the videos at Autonomic Homes Website.
MFM Main Features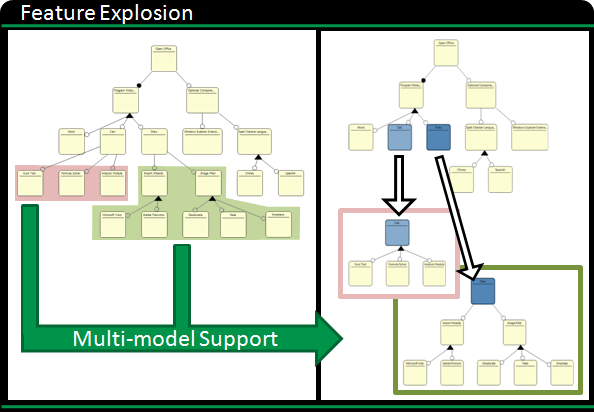 MFM News


June 20th, 2008
eclipseDay in Valencia
Conselleria of Infrastructures and Transport (CIT) of the Valencian Community is promoting the organization of an eclipseDay in Valencia.